Like all small business owners, Charlotte area law firms need to bring in new customers to survive. Unlike brick-and-mortar stores, the first contact many attorneys have with potential clients is on the telephone.
"Every day we advertise on Charlotte radio," says attorney Chris Hall of the city's Emory Law Firm, "we receive 10-12 calls from listeners seeking representation."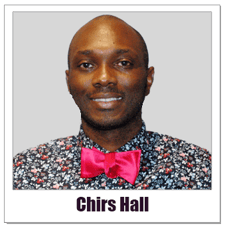 "We can track each of these calls back to our radio commercials," he says. "Around 25% of these callers will become paying clients. This is a very high rate of return for the money we are spending."
In the Charlotte area, there are almost 7000 practicing lawyers who compete to represent the 216,000 households who will seek legal representation this year. In all, these services will generate more than $540,000,000 in attorney fees.
To earn a fair share of this billing, area attorneys need to advertise. As Mr. Hall has learned, by most metrics, radio advertising is a powerful way to reach potential clients.
Every week, 91.8% of all consumers who will engage an attorney this year, tunes-in to a Charlotte radio station. This is far more than are reached by local TV, newspapers, social media, or streaming audio sites like Pandora and Spotify.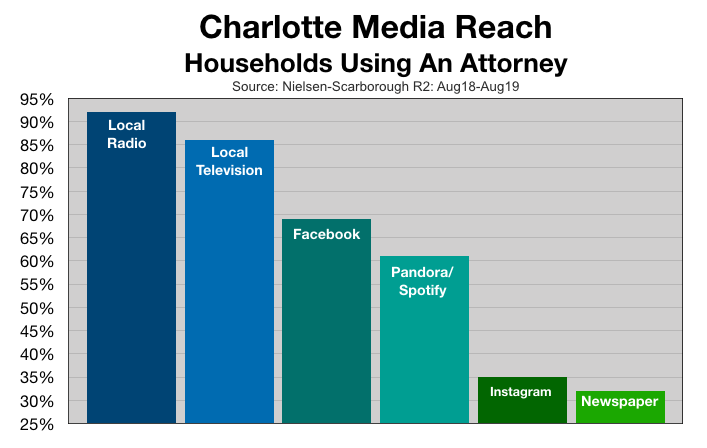 C. Randy Emory founded the Emory Law Firm in 2001 to represent Personal Injury cases. Mr. Hall joined the practice nine years later upon his graduation from the Charlotte School of Law.
"When I started with Emory Law," says Mr. Hall, "my first job was to negotiate successful settlements of Mr. Emory's current PI cases. My goal was, though, to pursue my passion for criminal and family law."
"In law school," he says, "I was taught about the rule-of-law, but not about the business of law. During my first few years at the firm, Mr. Emory taught me so much about marketing, advertising, billing, and collection. With his help, I soon started bringing in my own clients."
As Mr. Hall's client list began to grow, Mr. Emory began to include him in the firm's advertising decisions.
"That's when I began to understand what types of advertising did and didn't work," says Mr. Hall.
"For instance, we tested Facebook advertising for a while. Most of the calls we receive, though, were from people seeking free advice and free representation. So, we quickly dropped that."
"We also tried buying a 15-minute segment on a Spanish language radio station where we would take questions about legal matter," says Mr. Hall. "We did not see any substantial gain from that either, so we cut that out."
Advertising On Charlotte Radio Becomes Profitable
In January 2019, Mr. Hall took the firm's radio advertising in a new and much more profitable direction.
"Every Tuesday, we began airing eight, 30-second radio commercials throughout the day on Charlotte radio called Trouble Tip Tuesdays. Each tip would contain information on common legal issues such as criminal record expungement and driver's license revocation."
"We run a specific 'tip' eight times every Tuesday. Each of these commercials ends with my catchphrase, call Chris Hall."
The results were almost immediate.
"The first Tuesday we ran these tips on the radio, we received three calls. That number has grown to 10-12 per each day the tips run," says Mr. Hall. "Ninety percent of the daily calls relate directly back to the subject of the current tip."
"Not every call is from the person who we will ultimately represent. Sometimes it's a family member or friend who hears the commercial and calls on behalf of a potential client."
25% Of Radio Leads Become New Clients
"Regardless of who makes that first call," says Mr. Hall, "we know that if it was spurred by one of our commercials on Charlotte radio, then there is a 25% chance it will lead to a new client."
The new business generated from the firm's radio advertising has allowed Mr. Hall to realize his goal. Personal injury cases now only occupy 10% of his time and his criminal and family work represents the bulk of his focus.
"Mr. Emory asks me all the time if our advertising on Charlotte radio works," says Mr. Hall. "I only need to show him my call back sheets to prove it does.
More Advice For Charlotte Small Business Owners