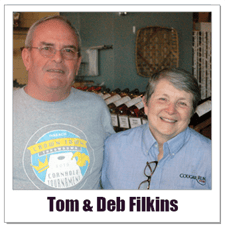 "At least 40% of our new customers come because of our advertising on Charlotte radio," says Deb Filkins, co-owner of Cougar Run Winery in Concord, NC. "Eighty percent of these first-time customers will become repeat customers."
Ms. Filkins and her husband Tom, who produces all the wine, opened Cougar Run in December 2012 with an inventory of 1500 bottles. The retail store is located in a historic Coca-Cola bottling plant on the city's Church Street
"During our first full month in business, we rang up $100 in sales. Tom and I were ecstatic," says Ms. Filkins.
The winery began to grow modestly drawing customers primarily from the Concord area.
"In the beginning," says Ms. Filkins, "we relied on social media postings to bring in new customers. We also would do email blasts a couple of times a year."
"Most of all, though, the customers were coming in for Tom's dry red wine. It is a great alternative to the sweeter Muscadine wines most of the other local wineries sell."
By the end of 2014, the Filkins had built their sales from $100 a month to more than $8000. They believed, however, Cougar Run could be bigger. So, they set their sights on Charlotte, 35 miles southwest of Concord.
"First, we tried print advertising," says Ms. Filkins, "but, it did nothing for us...zero," she says. "Then I thought about Charlotte radio. I know people in that area spend a lot of time in their cars, and that would be a great time to tell them about Cougar Run."
In mid-2015, the winery began advertising on Charlotte radio using a single station.
"We were targeting 35-54 year olds who have high disposable incomes," says Ms. Filkins. "Radio does a very good job reaching those demographics.
Research from Nielsen confirms Ms. Filkins's understanding.
Last week, for instance, 96% of all 35-54 year olds with household incomes of $100,000 or more tuned-in to a Charlotte radio station. This is significantly more than were recached by local TV, newspaper, social media, or audio streaming sites like Pandora and Spotify.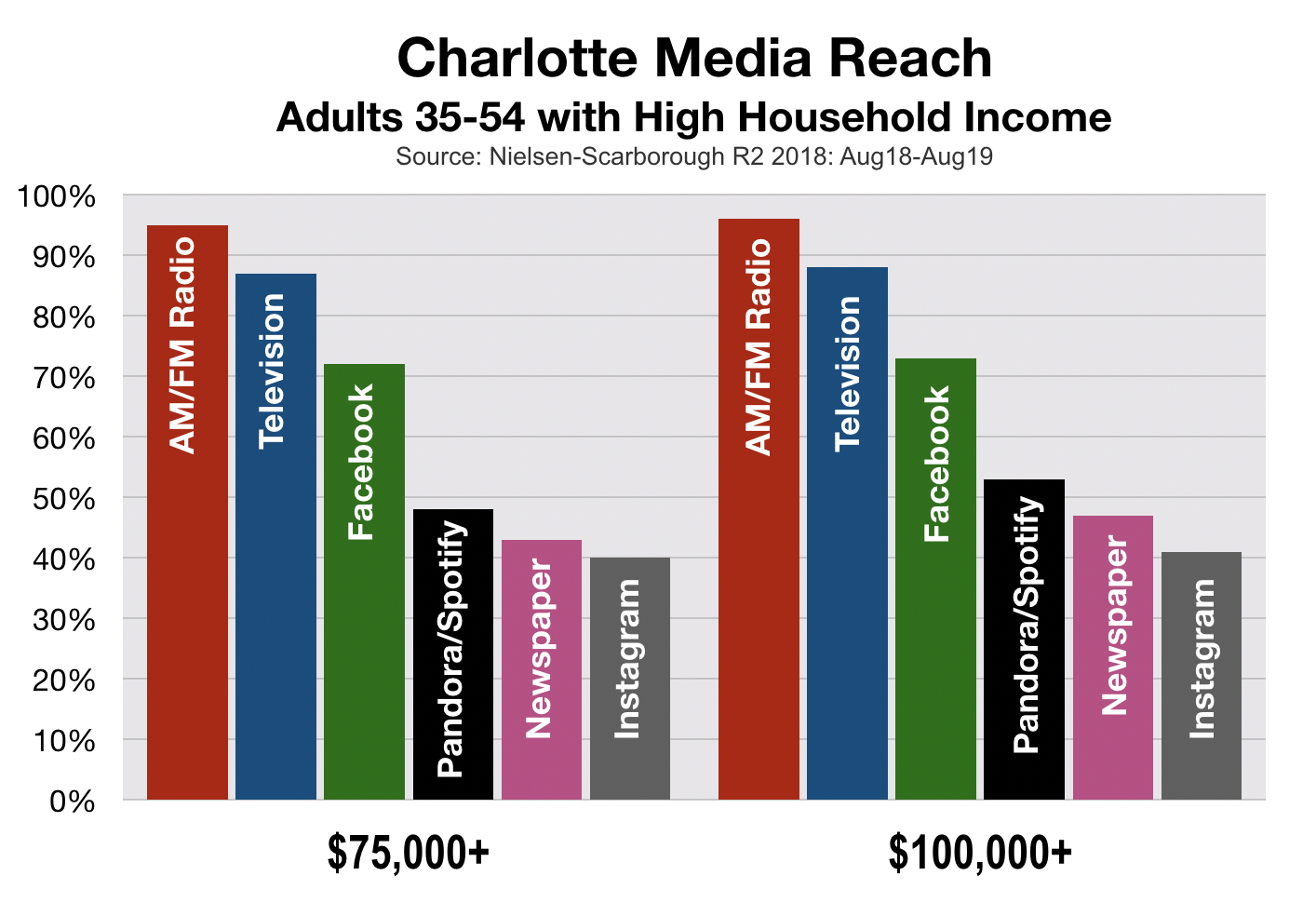 Additionally, and most importantly for Cougar Run, Charlotte radio reaches more wine enthusiasts each week than all other local advertising media.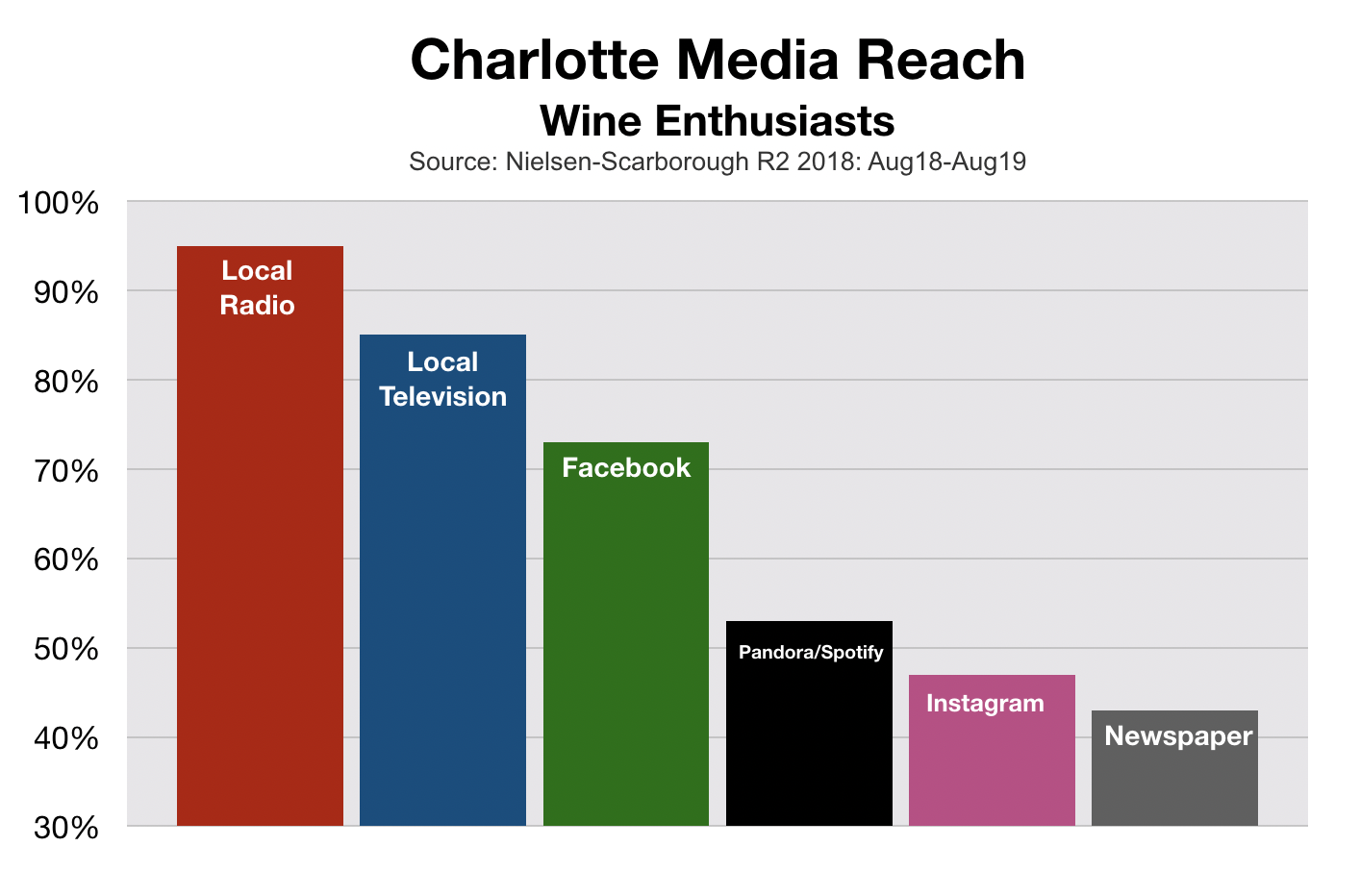 "Within a couple of months after we began advertising on Charlotte radio, new customers started coming in and saying that's how they learned about us," says Ms. Filkins.
"One day, a woman from Charlotte dragged her husband into the winery," she says. "He was a die-hard beer drinker who really didn't want to be here. He left, though, with a case of red wine which he absolutely loved."
Based on their success Cougar Run has added a second Charlotte radio station to the advertising mix.
"Since we started advertising on the radio, almost half of our business comes from outside the Concord area, much of it from Charlotte." says Ms. Filkins. "We now sell more than 9000 bottles of wine every year. Our monthly sales have grown from $100 a month when we opened to almost $14,000 today."
More Advice For Charlotte Small Business Owners